Rhode Island SOS Business Entity And Corporation Search
The Business Corporation registry of the Rhode Island Secretary of State has records of every detail that you would want of a corporate entity. Every other corporate or business entity that has-been registered with the Rhode Island SOS has every minute details of it recorded in the registry. Beginning with the filing to the present status, you can have them all in one registry. The entities in the registry include:
Corporations
Limited Liability Companies
Limited Liability Partnership
Limited Companies
Limited Partnership
Rhode Island Business Entity Search
A proper search method is what is required for getting access to every minute detail in the corporation registry of the Secretary of State of Rhode Island. The online business search befittingly combined with our easy to follow step by step process would bring you results within no time.
With access to extensive search options, keeping handy at least one of the following would help you in your search:
Entity Name
Filing number
Identification Number
Individual
Purpose
Business Address
Agent
Below is a step by step guidelines on how to use the Rhode Island business search tool.
1. The first step is to access the Rhode Island business search page by clicking here. The page looks similar to the screenshot below.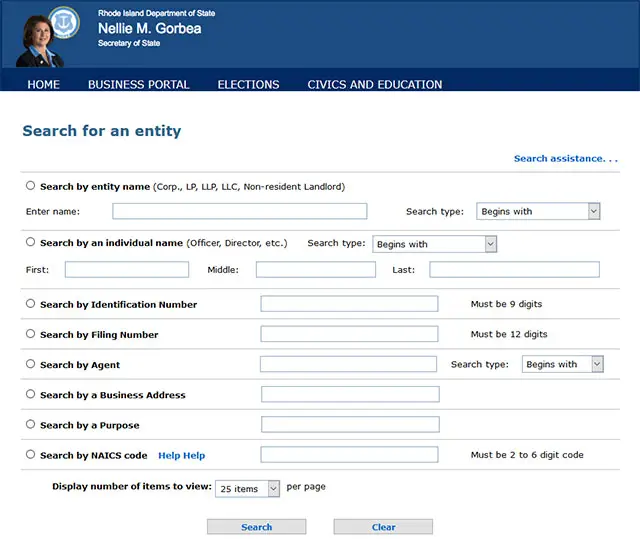 2. On this business search page, they provide the ability to search by entity name, individual name, identification number, filing number, agent, business address, purpose or NAICS code. For this example we will only search by the entity name. So go ahead and select "Search by entity name".
From here type "Arpin Group" in the "Enter name" field. They also provide the ability to widen or narrow your search with the "Search type" drop down field where you can search by name that begins with, exact match, full text, soundex or inactive. For this example select "Begins with". Once you have done this go ahead and click the "Search" button as shown in the screenshot below.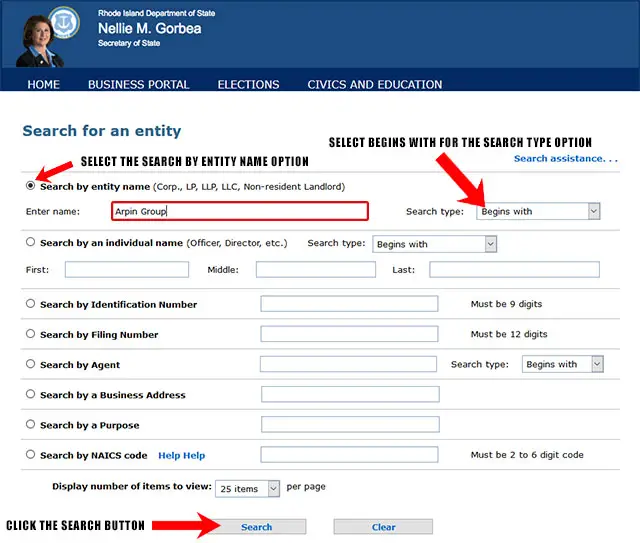 3. Once you click the "Search" button, you will see a list of results that match your search criteria. They will display the entity name, ID number, NAICS, status and address for each business entity listed. To view the details for a business, click the entity name as shown in the screenshot below.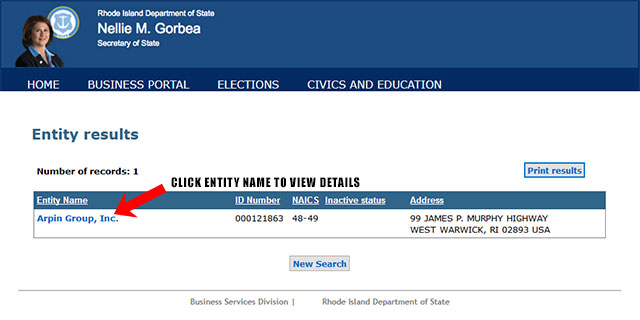 4. When you click the entity name to view the details, they will show you the ID number, entity type, their date of incorporation, location of the principal office etc. You can see this in the screenshot below.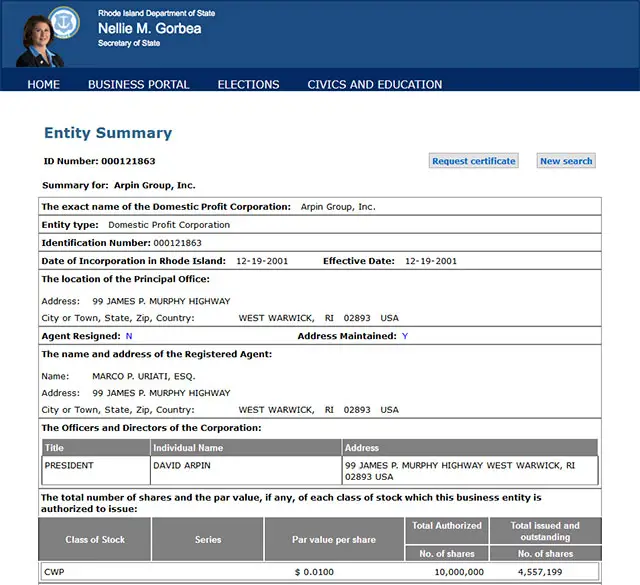 ---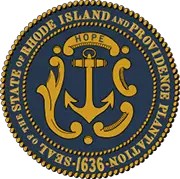 Information on Secretary of State Rhode Island
The Secretary of State of Rhode Island is one of the constitutional offices in the US state of Rhode Island that is involved with a number of public affairs of the state. It is an elected office for a term of 4 years. The current office holder is Nellie Gorbea.
The Secretary of State of Rhode Island is the custodian of the seal of the state and has the power to authorize different governmental documents by using the seal. He looks after the public affairs of the state and is also responsible for guarding the public records and archives. The following are the five divisions which the Secretary of the State is in charge of:
Elections and Civics Division
Corporations Division
Public Information Division
Rhode Island State Archives
Rhode Island State Library