Arizona SOS Business Entity And Corporation Search
If you are out to look for a business entity or corporation in the state of Arizona, then you are in the right place. The Arizona Secretary of State allows its users to navigate through its database to access information of business entities like:
Corporations
Limited Partnerships
Limited Liability Companies
Limited Liability Partnerships
Arizona Business Entity Search
The database in the Arizona SOS website lets you access information about any business entity incorporated in the state based on the following information:
Filing number
Applicant or Agent Name
Registered Name
Below is a step by step guideline to assist you in searching for an Arizona business entity.
1. Click here to go to the Search Page for finding registered entities in the state (it will look like the screenshot below).

2. You can conduct the search by Filing Number, Applicant/Agent Name, or Registered Name. Let's conduct a sample search by Registered Name. Let's type in "Amkor Technology" in the "Registered Name" field (see the screenshot below for reference).
3. Choose a radio button to select the type of search (see the screenshot below for reference).

4. Click on the "Search" button. The Results Page with a list of business entities with the name you typed in will then appear.

5. On the Results Page, click on the ID number to get further details on the entity.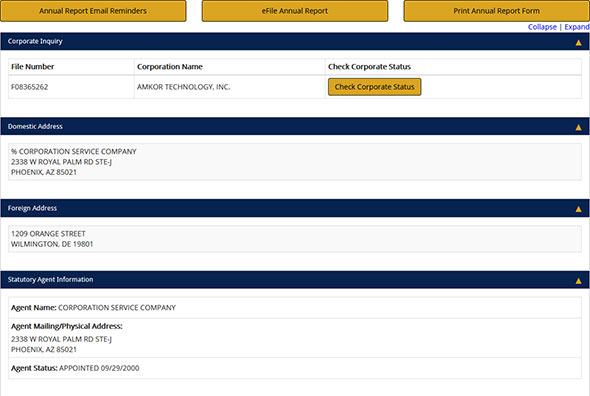 On the Results Page, you can file the business entity's online reports, as well as download its annual reports.For a small fee, you can also order a certificate of good standing for the business entity.
---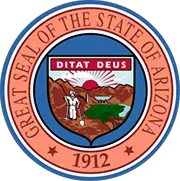 Information on the Arizona Secretary of State
An elected state executive officer of the state, the Arizona Secretary of State is the keeper of the Great Seal of the State. The current Arizona Secretary of State, Michelle Reagan, was sworn into office in January 2015 and is currently serving a four-year term.
Arizona does not have an office of the lieutenant governor, in effect making the Secretary of State first in succession to the Governor. The Arizona Secretary of State is in charge of four divisions:
Arizona Advance Directive Registry
Business Services Division
Elections Division
Public Services Division